It's the year 1607 and the English Ship Consent has arrived in the bay, today known as Hout Bay, the skipper sends his pilot John Chapman ashore in search of provisions. This pilot records the bay as Chapmans Chaunce (chance) where the name stuck and was used on East India charts. Chapman's Peak was thus named after John Chapman and is not named after any Governor of the Cape.

Fast forward to the early 1900's and the first administrator of the Cape Sir Nicolas Fredrick de Waal wanted a road built linking Hout Bay to Noordhoek. Using convict labour to start the work on building the road along the spectacular route on the sheer cliffs above the Atlantic Ocean. Taking seven years to complete at a cost of ₤20 000, The Hout Bay – Noordhoek road was opened on 6 May 1922, by the Governor of the Union of South Africa, His Royal Highness Prince Arthur of Connaught.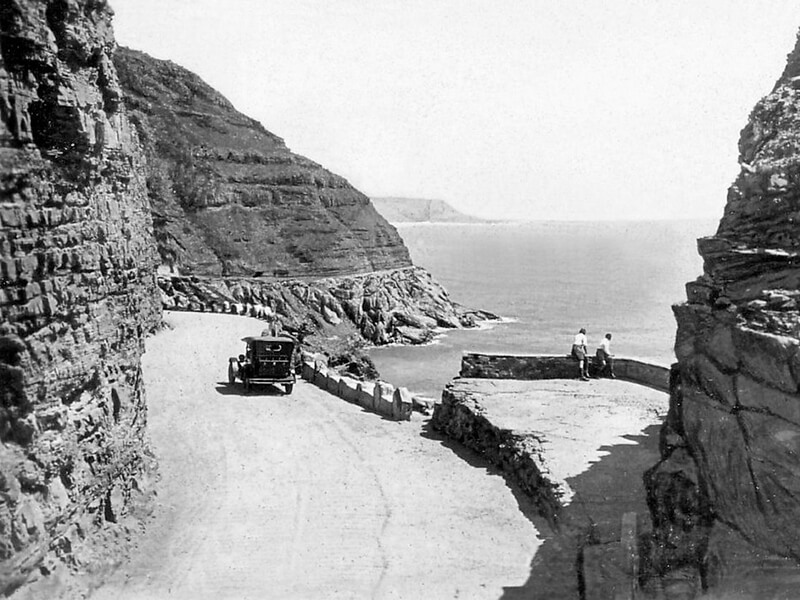 [Image via Hilton Temper]

Over the years with erosion and Mother Nature taking its course there were rock falls that caused injuries and deaths. The road management and upgrade took place with lots more modern technology and engineering, winning numerous awards and the road re-opened in 2003.

Many have come to adore and love Chapman's Peak Drive over the years and we have seen the love shared among those that have had proposals, spend time together and celebrate their love. So in February we say come spend some quality time and explore and enjoy and spread the love on Chapman's Peak Drive. The perfect place for those who wish to celebrate Valentine's Day and join in the celebration of our 100 years too.

For those active and adventure seeking couples, hiking, trail running and exploring nature, in the mountains above us or cycling the route is perfect for you. The more romantic ones we think the picnic spots at sunset are really great and just a drive through from either side to enjoy a romantic meal at the many varied restaurants in both Noordhoek and Hout Bay makes great locations.



[Image via Facebook by Clint Lawrence]

Continue to share the love by celebrating with us as we have started a 100-day countdown from 26 January to 6 May 2022 to celebrate Chapman's Peak Drives 100 years Centenary and stand a chance to win some great prizes. More info including a section on a more detailed history page can be found through our site at www.chapmanspeakdrive.co.za/100years

Exploring via Chapman's Peak Drive whether for the Cape Floral Kingdom, fitness, fresh air, history or more you will surely want to discover more and more and if you use Chapmans Peak Drive frequently there are benefits by signing up to be a frequent user.

All users of Chapman's Peak Drive are encouraged to follow all COVID19 protocols when using the toll plaza services and when out at the picnic and viewing points. Enjoy the fresh air and open spaces responsibly and please ensure no litter or graffiti is left behind.